We at Animalia strive to go beyond just involving everyone with Conservation for the sheer moral reasons, we saw a gap in Wildlife Education and want to share the knowledge of how animals' unique and distinctive roles impact OUR lives in ways most don't realize.
It's only appropriate we begin with the Elephant, the species that influenced Animalia's genesis.
Did you know that elephants are consistently fighting against global warming?  
This guy knows it. Let us translate:
Elephants are known as a "Keystone Species" – which means they're a fundamental building block of their ecosystem. They may just be a fundamental building block of our entire planet and livelihood.
Elephants do a lot of grazing and walking around, up to 30-50 miles PER DAY in the wild. This is because as you can imagine, they need a LOT of food to survive, eating as much as 700 pounds PER DAY! This results in a lot of breaking tree limbs, clipping branches, peeling bark, turning over topsoil and moving vegetation.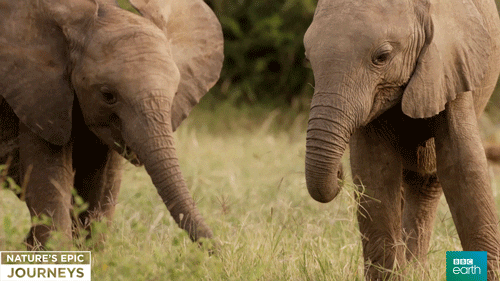 Just by existing Elephants are moving and dispersing seeds, serving as nature's gardeners. They cultivate the soil with their steps and leave behind a fertilizer via dung.
This all creates MORE vegetation, more life. And for forest elephants in particular, creates more trees! Now as we know trees give off oxygen giving us life. Dense forests just happen to be one of our planet's best tools for trapping carbon.  Without this resource, carbon continues to escape, heating our planet, and with it, severely hurting our lives.
So protecting elephants is about so much more than about the ethical case of respecting the life of others. Protecting elephants DIRECTLY applies to protecting us humans too!
Our incredible partners at Laos Elephant Initiative are working to protect and repopulate wild elephants living in the Nam Poui jungle of Laos in Southeast Asia.
Help us help them complete their impactful initiatives, protecting habitat and combating poaching, by buying an I Love Elephants Tee today for you or a loved one and show your support for this amazing Keystone Species!